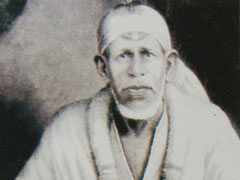 This work is dedicated to my Parents and Sai devotee friends in StarSai Family who inspired and encouraged me to work for saibaba. Before you look for Shirdi Saibaba's Answers through StarSai my humble request is keep in mind the following 3.

1. Do Naam Samaran - How to chant Sai Sai Sai when you are busy with work and family life?

2. Light lamps in a Safe place - Sai Pooja

3. Sai leelas are beyond human interpretations. How can i limit Sai's ways for you and your family with few words? Have shradha and Saburi - Read this article - Reasons for Sufferings in Life

Copy right protected as it took years of devotion , understanding sai's ways to work on this . Don't print or copy to other websites. You are most welcome to share the link www.starsai.com to your close friends.. As of now Sai din't approve to create this work as a Book but if sai guides me i shall by Goddess Saraswathi's grace.

StarSai.com Shirdi Sai baba speaks from dwarakamai by C.Venkatraman

Worship Shirdi Saibaba deeply in your heart and select a number by sai grace ...

You can also chant any small mantra remembering God you like or chant with pure devotion Sai...Sai ...Sai few times and choose a number in mind and click on below numbers. Below all these numbers , i wrote a article about how Saibaba can help you ,how much to relay on such answers and the greatness of speaking good words . Scroll down and read the article when you get time.