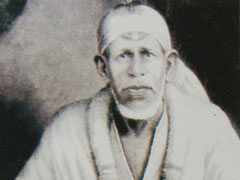 Answers are below these links

1. Shirdi Saibaba Book of Love

2. Sai Pooja

3. Overcome Depression

4. Love your Mom and Dad
Sai Speaks to you...

I like your patience.Many people ask me something and gets fed up when i can't give in time but you have waited until the Sun God opens the rays of blessings on you.

A good time in your life will start in few days.You will be surprised for the changes which is going to happen.Don't expect much.This poor fakir of Shirdi can only give what he can.
Be content with what i give you with affection because what i give you will last for a life time.

The secret of blessings is the fact that you must be ready and prepared internally and externally to make use of my blessings.Only to prepare you , i waited this long.Now i am satisfied with your patience .
Shradha and Saburi should be like two eyes of my devotees and you have behaved like a sweet child of mine.

Trust the words which comes from the sacred fire in dhuni "You will meet a saint or you will see me in dream.All your past sins are made as mud and dropped in dhuni.Now accept the blessings of Goddess Laxmi and serve humanity as much as you can."

Offer a gift to your dear ones and make them happy.I will smile.

Go back to Sai Speaks