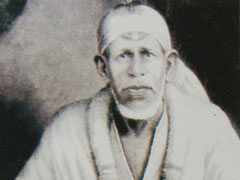 Answers are below these links

1. Shirdi Saibaba Book of Love

2. Sai Pooja

3. Overcome Depression

4. Love your Mom and Dad
Sai Speaks to you...

Think hard.Did you ever hurt someone whom i love the most. Did you ever call someone as mad just because he/she deeply trusted me like child. If not, then you have passed the test of maya.

If you can confirm this moment that you have not hurt my most beautiful child, then remember this itself proves that you have lived a very pure and perfect life .

You have clutched me so tightly in your life that no maya can haunt you.Success awaits you in few days.Offer coconut under my feet, do prayers , make food with the same coconut and serve to everyone.
If possible you can also donate the food to few sadhus and handicaps.

Coming back to the one who hurt my devotee whom i love the most ,you are facing the pain as a result of your belief on false love.I have sent someone to take care of you after several births.
Why did you ignore and now you are suffering.Now do something to make the one happy .The one whom you hurt.He/she is like my own eye.I will shed tears until you make him/her happy.

If you have not hurt anyone then ignore above words and be sure about the success for the work you do now.
Go back to Sai Speaks