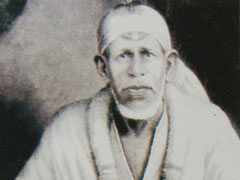 Answers are below these links

1. Shirdi Saibaba Book of Love

2. Sai Pooja

3. Overcome Depression

4. Love your Mom and Dad
Sai Speaks to you...

A dispute is ahead or you are already facing a pain but do not compromise.
Offer me a violet or orange dress , pray whole heartedly on a full moon day and do what you think is right. If you don't have a Saibaba temple near by you can get any dress to children,
close relatives or mother as a gift You will be blessed.Even if it causes pain in the end you will win.

Avoid bad company.If someone tries to spoil your reputation go away from the place they stand.

Nothing is wrong if you act true according to laws of nature.

If you gift your wife or mother with violet dress i will accept it and bless you.

Where is the need to hurry.Impatience will spoil everything. Everything is going on right though you are having a wound in heart.Miracles are not everyday happenings.

Its good time to concentrate in studies , career or read a good book.Read Sai Satcharithra chapter seven and fourty seven when you are worried.
Go back to Sai Speaks